As the UK continues its drive to build homes in 2023, there is an urgent need for our industry to cut carbon emissions and address the challenges faced by economic instability. The government's legally binding target to reach net zero by 2050 is not all that far off and a large-scale shift to volumetric modular offers a clear solution, says Christy Hayes, chief executive of Tide Construction and Vision Modular Systems.
There is still a necessity to build a significant number of new homes to a high standard, but the questions remain, how will these homes be built and, more importantly, who will build them? We are all familiar with the skills shortage facing UK construction. A 2022 Workload Trends Survey carried out by the Civil Engineering Contractors Association reported that 75% of construction companies said they were finding it difficult to recruit skilled operatives. These challenges are thought to be partly responsible for the UK's low productivity.
Meanwhile, communities require energy-efficient homes that support their incomes in the long term while also playing an essential role in addressing the challenges faced by climate change and damaging carbon emissions.
We believe these themes can be tackled through the adoption of Modern Methods of Construction; more specifically, volumetric modular techniques, which will help deliver a high-quality built environment, particularly new homes.
Volumetric modular is fast, safe and precise
Building homes using the volumetric modular method cuts construction time by up to 50%. Modular construction's efficiencies mean that, if used widely, these homes will be built faster, more efficiently and at scale.
Modular can also play a role in addressing skills and productivity issues. For those working in construction, a shift to modular offers a stable place to work while developing skills for a modernising sector. Offsite construction provides a safe, in-door, weather-proofed workplace in a single location – as opposed to transient work moving from site to site.
Factory-made does not mean compromising on architecture and design standards. At Tide and Vision, we have developed the ability to fully deliver the architect's vision with an exceptional level of design flexibility. Furthermore, production in precision-controlled conditions ensures a higher quality end product, reducing defects, lowering operational costs and increasing the energy efficiency of homes.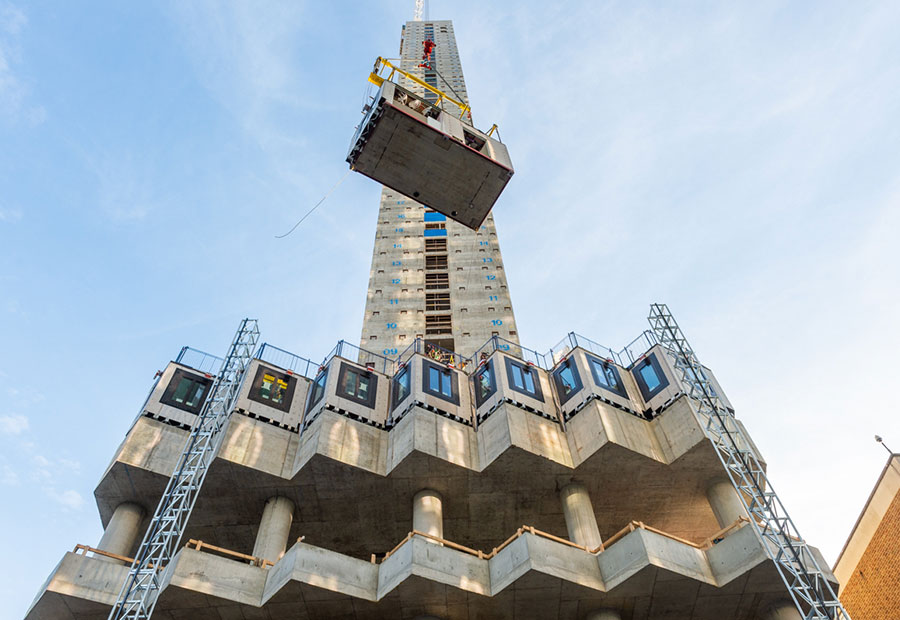 Carbon emitted through modular construction can be lower
With regard to sustainability, the embodied carbon emitted through modular construction can also be significantly lower. A study by academics at the University of Cambridge and Edinburgh Napier University of two residential developments delivered by Tide and Vision – including the 44- and 38-storey buildings that form the Ten Degrees residential development in Croydon, south London – shows how much more carbon efficient modular can be.
The research showed that using Vision's modular system reduced 28,000 tonnes of embodied carbon emissions across both schemes combined, the equivalent of the CO2 absorbed by 1.3m trees in a year. The embodied carbon values are significantly lower than the current industry targets set by RIBA and LETI, already exceeding the 2025 benchmark and, with minor enhancements, will achieve the RIBA 2030 benchmark. This clearly highlights the potential of modular construction to radically reduce the carbon footprint associated with building thousands of high-standard homes annually.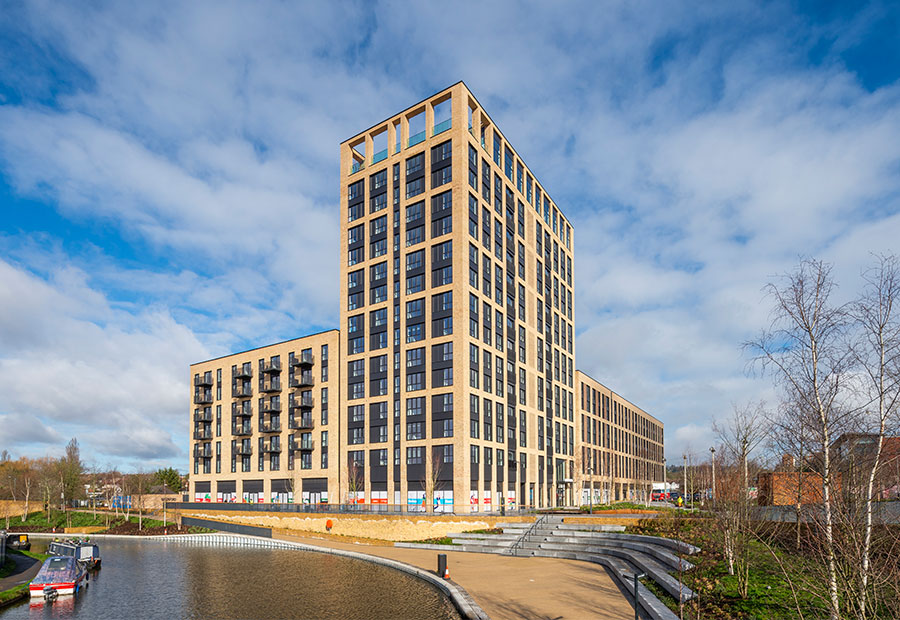 Modular can increase the provision of affordable homes
The potential for modular to radically increase the provision of affordable homes is evident. This has been recognised to an extent, with the £11.5bn Affordable Homes Programme requiring housing associations to deliver 25% of all homes built through the scheme using Modern Methods of Construction. We believe this is only scratching the surface, though, and we would like to see this figure hit 40%.
While the scope and skills are there for modular to revolutionise housing delivery, we are also looking to the government to support the certainty of supply in 2023 by setting out a streamlined planning process for modular and recognising the impact the embodied carbon savings achieved can make towards significant long-term progress.
At Tide, we have over 3,500 homes currently on site, with a significant forward pipeline beyond that. We believe we are demonstrating the potential of volumetric modular as a mainstream method of delivery. Testament to that is the recent accolades we were awarded at the Council on Tall Buildings & Urban Habitat Awards in Chicago, where we were recognised as champions in the use of modular construction in buildings greater than 100m tall, bringing offsite construction legitimately into the realm of skyscrapers. These follow an Award of Distinction earlier in the year for Innovation at the World of Modular conference in Texas.
Although modular is not the only solution to the country's housing needs, it is a significant contributor to solving the broader issues facing the sector. On this basis, we believe modular construction has enormous scope to revolutionise the UK construction industry.
We expect 2023 to be the year in which Modern Methods of Construction will become more widely recognised as the go-to efficient, safe and sustainable solution to transform the delivery of high-quality homes.
Christy Hayes
Chief Executive
Tide and Vision Volumetric